A kelpie's pads should be compact, deep and firm. He should stand on them square with his toe nails pointing vertically down and touching the ground. Good deep pads will cushion the impact of his running. They should be preferably dark in colour for hardness, with no hair between the toes to catch grass seeds. Border Collies (especially the old long hair types) have a real problem with grass seeds 'working in' between the toes and often break down in late spring - summer because of this when you need them most.
What About Colour?
Does this come under the umbrella of good type? I suppose so. Many years ago, when I. was a lot younger and maybe not as wise, I visited a NSW noted kelpie breeder. I called in unannounced, dressed typically for a Victorian Western District grazier, polished tan boots and moleskin pants etc. - you know. The late Mike looked me up and down and said 'A f... Victorian and I suppose you have come here to buy a f... red & tan!' He was right of course, but he could have left out the adjectives at least on the first bit anyway. He went on to say 'Don't you silly buggers know kelpies come in seven different colours and it's hard enough to get a good one without narrowing your chances down by worrying about what bloody colour it is.' Mike apologized later and explained that his wife had left him the night before and he wasn't in a very good mood.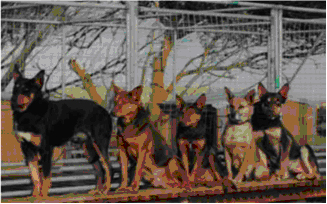 Gunga, black and tan - Flint Judy and Johnny are red and tans.
Ella is a saddle back cream with a black saddle
Kelpies are also available in straight cream, blues and. silvers and straight black and red
---
Generally, However
In some animals they have proved that colour genes are inextricably linked with other genes. In some animal breeds certain colours always have certain temperaments, other breeds might have colour linked to coat quality or ear shape or any of a host of seemingly unrelated things.
Scientifically, this is due to that particular breed, strain or line having the colour genes on the same 'arm' of a chromosome as the genes for the associated trait, so that when sexual reproduction occurs and. chromosomes are halved the genes on any given 'arm' stay together and are passed on. Offspring who received that 'arm' will always have both traits. Maybe this accounts for the fact that in past years all black kelpies were called. 'Barbs' and were known to be an exceptionally tough and forceful breed.