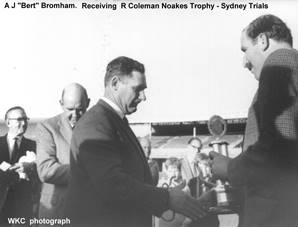 The Glenville Stud was first started in 1959 when I purchased a 5 month old pup from Walter King for 15 pounds; the last dog Walter had. He was an old man then living in retirement in Albury. This dog, Kyleston Cobber was a red and tan bred by Gordon Richmond at Bombala in the Monaro District by Scanlons Bill a litter brother to Scanlons Polly and from Karawarra Jill.
He turned out to be a very good station dog, he would work sheep or cattle as well as being a very good yard and shed dog. I was not interested in working trials then as I was too busy trying to make a living to support my wife and two young children. At the time I had a very good black bitch named Jess, bred from station dogs, who produced some very good station workers until she was poisoned with a bait.
In December 1959 I purchased a small black and tan pup for ten pounds from Gordon Richmond. I called her Betsy. She was also by Bill (by Porters Don out of Tippy) and out of Karrawarra Christine who was by Woombi Silver. This little bitch showed a bit of class and was very easy to handle. When she was about 12 months old my mate Roy Wheeler from Holbrook talked me into going in a trial at Euroa, in Victoria taking our dogs. He had a couple also.
I had never seen a trial before and after getting a few instructions from Bill Marshall and a few others I went out with Betsy. She did everything I asked of her. We didn't finish the course, but I won the Encourage Trial. For first place I received a lovely pair of silver salt and pepper shakers and they are one of my most prized trophies. That was the start of trials for me.
Later on in 1962, I purchased a 6 weeks old bitch pup from Tony Parsons for 25 pounds which was a big price then for a pup. She was Karrawarra Tammy (by Kanimbla Darby out of Shanahans Loo). I bred a litter of pups from her by Cobber, but she was not what I was looking for. Tony wanted her back to breed from, so I sent her back and he sent me down a 6 week old pup in exchange for her.
This pup, Karrawarra Patti by Cudgee Nap out of Shanahans Loo turned out a very good brood bitch for me. She was a very good casting bitch but wouldn't hold tight enough at an obstacle. I mated her to Shanahans Ben that Chris Howe had at the time. I sent Chris a dog, Glenville Gun, and a bitch for the service. I kept a black and tan dog pup for my own and a black and tan bitch which I later sold to Geoff Jolliffe at Werribee.
The dog pup, I called Glenville Tex, was just starting to show interest at a young age and I liked him a lot. Another good friend of ours, Ted Rutland didn't have anything to go on with and in a very weak moment I gave him this pup.
Ted had him going fairly well and as I didn't have a Novice to take to Canberra, and Cooma on the way up, I took him with me after taking about 4 weeks to put a finish on him. He won Cooma Novice and then I gave him back to Ted. He turned out to be one of the top dogs at that time. Ted won a lot of trials with him and sired a lot of very good dogs.
I mated Patti to my dog, Karrawarra Sargeant which produced Glenville Dot, the top breeding bitch of my stud. Patti produced some very good dogs by Glenville Spike ( by Sargeant out of Betsy) and some very good ones by Scanlons Butch, including Glenville Jerry, a young dog I gave to Frank Scanlon who in turn sold him to Tom Doonan and I think Barry Doonan finished up this dog.